The Very Big Cave Adventure, Part One
By
Grunion Guy
The day started out like a normal day for a super hero. I woke up. I brushed my teeth. I saved the world. And then I met her. She was perfect. I mean, she was a prefect.
"Hi. I'm Trixie, spelunk me. What I mean is, I've done Caves before, so I've got the job of showing new adventurers around. I'm a prefect. So you'll have to behave yourself. Let's have a look at you. Healthy enough, I suppose. Do with a bit more exercise. Still, you'll soon get that. Alright, you'll do."
I didn't hear a word she said after 'Spelunk me'. I was smitten! I would follow her anywhere!
"Let's get going," she said and promptly led me into the woods to the end of a road west of a small brick building.

This doesn't look like a cave at all!
Perhaps she wanted to go into that little brick building where nobody could see us! Forest lies all about me. A small stream flows out of the building and down the gully.
This all seems vaguely familiar! I try to enter the building but the door is closed and I can't open it! A brass mechanism is attached to the door, bearing the legend: VACANT. There is an aperture at the top of the mechanism approximately the thickness and diameter of one penny (old style).
Well heck! I don't even have a modern penny! I head west to search the surrounding area before my prefect forgets about the spelunking we're going to do!

Who knew hills and birds could be drawn in exactly the same way?
I climb up a small hill and my girlfriend says, "Not that small. I notice you are out of breath and perspiring freely, so I hope you will not fuss when I tell you that this hill plays no particular part in the adventure and I have no idea why it's here."
I say, "Well, I'm glad for the help but you don't have to call me fat anymore. Sheesh! Apparently the St. Brides School for Mouthy Girls didn't want Gamers to buy any other games from them."
I head back East by way of going North and then head
SOUTH
from the little brick building and find myself in a gully.

A rampaging bull guards the gully and a single penny, old style! He doesn't seem very threatening so I
WAIT
to see if he'll react to my being here. I must be hallucinating because the bull roars out: "ARE YOU STILL THERE?" As if I'm going to answer a figment of my imagination! Of course, this could be a fantasy game and it might be a Minotaur guarding the Gully! In that case, I don't want him to know I'm here so I answer,
"NO!"
The bull believes my outrageous fib and stops guarding the gully. It is a GULLY-BULL.
Oh, ha ha! What an astounding joke, Chap! Pip pip! I
GET THE PENNY
and head back
NORTH
so I can get into the brick building and spelunk my prefect! I
INSERT THE PENNY
and the door swings open!
"Come on into my boodrawer, my lady," I coo seductively as I head
EAST
into the building.


See? The spring is an actual spring! And the little fence is a racketeer!
This is the wellie-house for a large spring. At the centre stands the spring itself with a little fence beside it. Also -- if nobody has filched them -- a pair of wellies. I
GET THE WELLIES
and examine them because I don't speak British American. Pong. Pong? PONG? Is that a brand? What does that mean? From the picture, I imagine they must be boots. So I
WEAR THE WELLIES.
They fit! That's almost as ludicrous as a talking bull! I also
GET THE LAMP,
GET THE BOTTLE,
GET THE KEYS, and
GET THE BOMB.
I might need the other stuff as well but I think I'll just leave them here for now. I try to leave but the door has locked itself from the outside. So I ask the Fence how to get out of here and he says, "If'n ya thinked I knowed that, doesn't ya thinks I'd've lefted a'eady?!"
"Screw you!" I think to myself because I'm too scared to say it to his face. I decide to
TOUCH THE SPRING
and suddenly, BOOOOOOIIIIIIIINNNNNNNGGGGG! I'm launched out through the roof of the brick building and land back at the end of the road. I decide to
GET WATER
because exploring caves can be thirsty work. Also, witches. I head
SOUTH
and find I can't get past the Gully Bull as easily this time. I
THROW THE BOMB
and the bull eats the bomb and promptly explodes in a most inelegant manner. It is A BOMB IN A BULL.
"Oh, my prefect, what a charming wit you have! May we continue south now?" I say and I see she blushes a bit from my charm and grace and pectoral muscles. I head
SOUTH
and come to a place where all the water of the gully pours into a two-inch slit.

Notice I'm not making any inappropriate jokes here.
Recognizing this as one of those locations that are just added to pad the number of places the game can brag about having, I continue to the
SOUTH
where I come to a grate in the dry streambed.

I'll never fit in there!
It's at this point that I begin to wonder why my Prefect has been so silent. Perhaps I can talk to her somehow and I'm not utilizing this sexy option? Is she so hot that it makes this game worth playing when it's just a stupid, wacky knock-off of the Original Adventure By William Crowther and Don Woods?
"Well, at least this one has pictures!" With that decided, I pulled
OPEN THE GRATE.
The grate now lay open before my and my woman. I hesitated for a moment hoping she would go first. She didn't so I bravely headed
DOWN
into the sewer or streambed or cave or basement or whatever. "Yippee!" she yelled, following me in, "Now we're getting to the really good bits!"


The good bits.
"The really good bits! That's British slang for boobies and ding dongs, right?!" I kept that thought to myself in case it wasn't that kind of slang at all which might cause her to slap me in a non-sexy way!
We ended up in a small chamber beneath a three-by-three steel grate (probably the one I just dropped through!). A low crawl over rough, hard cobbles leads west into the darkness.
"I didn't say it would be fun for you," pipes up my hottie McPrefect.
"I don't remember you saying it would be fun for anybody! You said something about good bits!"
"You know what I mean," she flirted.
"Oh yeah! I sure do!" I responded! I decided I'd better
LIGHT THE LAMP
before going any further because I didn't want to fall in any Sploosh Holes. I then began my journey
WEST,
dreaming about the spelunking I'd be doing later back at the motel!

I think I need a stronger lamp.
I found myself crawling over cobbles, muttering something my Prefect tried not too hard to hear. Discarded in the middle of this passageway was a gilded cage. I made sure to
GET THE CAGE
before continuing
WEST
along the cobblestone crawl. The crawl ends in the Debris Room. It is filled with bits and pieces washed in from the surface and has not been tidied in years.

Fish skeletons! This is NOTHING like my bedroom! Ghastly!
"It looks a lot like your bedroom," sassed my girlfriend. I decided she must be my intimate, sexually active, nubile girlfriend if she knows what my bedroom looks like!
I noticed a black rod with a rusty star on the end and a very rude word written on the wall. I
READ THE WORD
written on the wall. It is SPECTRUM. That's a joke. Because the Spectrum was apparently the Commodore 64 of England. And this game was originally written for the Spectrum. And it had a very rude word in that one also. Yes, it was COMMODORE.
I thought about quitting this stupid game at this point, especially since I already knew that I was going to have trouble loading the second half of the game. Just like when I played Mindshadow. Although the trouble with Mindshadow was on the Spectrum and not on the Commodore 64! But this game was written for the Spectrum so it probably has some dumb code that I won't be able to figure out when the time comes to go to part 2. I
GET THE ROD
even though the rod scares the bird in the real adventure and I should probably just leave it. Except that the programmers of this game know that the people playing it would be familiar with the original game so you probably need the Rod to catch the bird! In fact, there probably isn't even a bird up ahead! It's probably a hot chick because in England a hot chick is sometimes called a bird! I head
WEST
and end up in an awkward, sloping E/W canyon. A spindly balding creature with a neat ginger beard and spectacles emerges from the gloom. He throws something which lodges in the wall with a sickening thud, then rushes off cackling wildly. After this weirdo who is probably an inside joke at the St. Brides School for Gifted Smart Asses ran off, I noticed that what he had thrown was a sharpened ZX81. I don't know how one sharpens one of those and I don't know what one of those is anyway.

One of those is this.
Knowing that anything can be important, I get the ZX81 and continue with my explorations. I head
WEST
and enter a splendid chamber thirty feet high. The walls are frozen rivers of orange sorbet. In the centre of the chamber stands a pillar adorned with ornate letters, and here the marble flags are somewhat worn.

That cave is really starting to look familiar.
I also notice a cheerful little singing bird here. What kind of bird remains cheerful when trapped in a dark cave? I don't think it's a bird at all! I bet it's a bat! Or a robot!
I check out the pillar. It is red with a large slot and a small keyhole. The ornate letters are "V.R." Probably another inside joke or British reference. I wonder if I can beat this game without personally knowing the St. Bride's School Class of 1986? Not having a key or any way to deal with the bird, I continue
WEST
and deeper into the cavern. I find myself next to a pit breathing traces of white mist. Where does that mist come from? What could it be? Is it a normal attribute of caverns to exude white mist?

"Who was that lady I saw you with last night?" "That was no lady! That was my domestic partner!"
There's also an old crack along the far wall but it's a stupid joke so I'll just ignore it. Stairs lead down into the pit so I climb
DOWN
those. My girlfriend has been fairly silent lately. Maybe I should do something stupid so she'll talk to me? I try to do a lot of stupid things but only get SYNTAX ERRORS which are probably a lot like slaps.
At the bottom of the stairs, I wind up in a vast hall which stretches out of sight to the west. Wisps of white mist curl about the hall like living things. Hmm. More of that white mist!


Are these natural formations?
"Girlfriend, isn't that mist strange?" I say casually and not at all in a desperate to hear her voice once again fashion.
"Looks pretty ordinary to me," she replies coolly. Oh, such a sweet voice! This looks like a good place to
DROP THE BOTTLE
because I'm tired of carrying so much stuff. I head
SOUTH
and enter a low room where I find a can marked "CHEERS". I have no idea what that means but I
GET THE CAN
anyway and then return to the Vast Hall to the
NORTH.
When I open the can, the little singing bird appears, bowing and blowing kisses. What a little drama geek! From the hall, I continue
NORTH
because it seems like the easy thing to do. I arrive in the Hall of the Mountain King. I have no idea how I recognize it as such. Perhaps from a barely remembered dream.

Shag carpets in a cave?
A Python has been left here by a wayward Herpetologist. I bet there's a Monty Python joke in here somewhere! But I don't know what it would be. What I do remember is that other game that is very similar to this game and how the bird beat up the snake in that one for some reason! So I
OPEN THE CAN
and the bird once again appears bowing and singing. It then speaks!
"Thank you, thank you!" says the bird. "And for my next little number..."
Suddenly the bird spots the python and attacks it. In an astounding flurry she sends it to that great flying circus in the sky.
Oh, there's the joke! I knew it was here somewhere.
After this amazing confrontation, I decide to keep heading
NORTH
because, well, why not? It seems to be working. I wind up in a N/S passage with a hole in the floor which has been repaired and cemented over. I also see some bars of silver! My first treasure! I bet the Fence is going to love this one! I
I try to
GET THE SILVER
bars and can't seem to carry any more. That's when my girlfriend calls me a wimp and hurts my feelings. I drop the ZX81 because it probably doesn't do anything (just like the real thing! Zing from the 80's!) and then I'm able to pick up the bars.
The picture would go hear except it looks like all the other caves.
The covered over hole seems like it probably means something but I also suspect it might just be a reference to the real Adventure which probably had more passages to explore if you went down from here. So I'll just ignore it and hope I'm right about that. I continue north and end up in a large room. A dirty crack is east and there is a large 'Y2' on a rock in the room's centre. A hollow voice says 'PLUG'.

Don't say Y2 or Plug here.
I am interested in the dirty crack so I head east but my girlfriend stops me.
"No. This is a family game. Don't you start getting into any dirty cracks. Oh well, you can go in if you must, but I'm staying outside. And it will cost you a treasure," she explainicates.
"Well, forget it then! I only have one treasure, I think. Hmm, this cage might be worth something. Anyway, I'll skip the stupid dirty joke since it's probably as dumb as the last one!"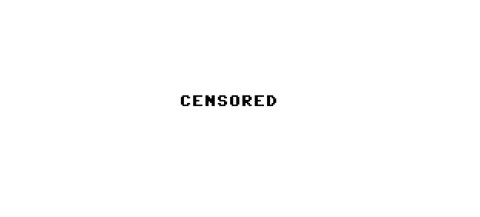 For the curious who don't want to squander treasure. This is all you get in the dirty crack.
I clutch my silver bars greedily to my chest and head west. I arrive at a low window overlooking a huge pit. It extends up out of sight and down at least 50ft to where the ground can be seen covered with traces of white mist. Markings in the dust on the window sill show that someone has recently been here. Across the pit from me is a similar window looking into a lighted room. A shadowy figure can be seen there, watching my every move.

I bet it's a naked lady!
"Look, girlfriend! Someone else is in here!" She doesn't seem interested. "Hey, over here!" I call and wave. The shadowy figure puts its tongue out. "What?! What a big jerko! That little
SHIT," I swear.
My girlfriend apparently doesn't like me swearing because she suddenly transports me to the Swear Box. It is a bare room with neither windows nor doors. In one corner is a washstand and a cake of soap.


Someone didn't spend a lot of time on this room.
"You know what to do," chastises my girlfriend in that domineering tone I'm starting to like in a peculiar way.
"Yes, dear," I say and promptly
WASH MY MOUTH
out with soap. When I complete the task, I find myself outside the little brick building again! Swearing is convenient! It's like a magic spell or a scientific transporter beam! I head
EAST
into the Wellie House to drop off a bunch of items. I
DROP THE KEYS,
DROP THE SILVER
(to which the Fence responds, "'Ere you are. Robbin' meself, I am."),
DROP THE CAGE
(to which the Fence responds, "'Course it's only plate. Worn too. I can let you 'ave a thou' on it."),
DROP THE CAN, and
DROP THE ROD.
I make a quick check of my wallet and find I've made 11,000 Pounds out of a possible 131,000 Pounds. I've got a lot of work left to do so I quickly head back into the cave by saying,
"SPECTRUM!"
I end up back in the Debris Room so I head
WEST
toward unchartered caves! In the E/W Passage, the little bearded guy throws another computer at me! How many of these things does he have lying around? I decide to leave it and continue to the
WEST. Again, I head
WEST and then descend
DOWN
into the pit with the weird mist floating out of it. In the Vast Hall, I head
EAST
and discover a really poor and racist text simulation of Space Invaders. As I enter the room, the door slides ominously shut behind me. Weird! A door in a cave! I hadn't noticed any doors before this.
I'm in a dark place. High above me hover several rows of brightly coloured alien craft. They are moving rhythmically from side to side. As I watch, I realize they are also moving slowly but inexorably...DOWN TOWARD ME. I find I can only move left, right, and fire. So I move
RIGHT or LEFT or FIRE
as many times as it takes to destroy 18 of the rittre arien buggels. Ahem, I mean LITTLE ALIEN BUGGERS. Stupid St. Brides School of Racist Accents. It doesn't matter how many times your ship is destloyed. Just keep moving and shooting until the game says
Congraturations! You have defeated the arien invaders!


Why did I just fight Space Invaders?
After defeating all of the stupid alien creatures, I find myself in a dark empty chamber. Except it's not empty at all! It's littered with a brightly coloured pile of user-defined characters. I
EXAMINE THE CHARACTERS
and notice they are in the shape of space ships. They do not look much the worse for being zapped -- the odd pixel out of place here and there, perhaps. Nothing more. These are tough characters.
As I sift through them I notice that one of them is rather more than a character. This is THE MOTHER SHIP, three characters in length by two high. Pretty big even for a full-blown sprite like myself. There appears to be an airlock on the ship. I cautiously
OPEN THE AIRLOCK
and discover a Venusian Moon-Crystal! Oh boy! I hear those things are valuable! I
GET THE CRYSTAL
and head back to the
WEST.
I take a quick look at the western end of this Vast hall but find my way is blocked by a deep chasm. I suppose if I could build a bridge, I could get across. Perhaps I'll do that next time I visit the Wellie House, seeing as how there is that convenient big log just lying there with nobody's name on it. I head back
NORTH
into the Hall of the Mountain King. From here, I head
WEST
into the last part of the cave left unexplored that doesn't take having to drag a giant log across hundreds of yards of dark, damp cave.


I forget how but this area is quite different than the Spectrum version.
I find myself in the Habitat Cave. It is distinguished by sackcloth curtains and square pieces of furniture in unvarnished pine made by "carpenters" who would not know a lathe if they were hit over the head with it. These and other items of like nature, hideous as they look in the town houses of people who ought to know better, seem strangely appropriate in a cave. Objectively, this cave is not large, but the cold bleakness of its furnishings gives it a sense of endlessness.
Wow! Rant a little bit more about those uncool middle aged robots, why don't you?
Even though my girlfriend seems enormously offended by the furnishings in this room, I can't seem to be able to manipulate any of the furnishings. I don't even know what those things might be. A bench and an Ice Box? A free-standing door and a work horse? Who can tell? I head
NORTH
and find myself in the Twee Chamber. The walls are hung with a Laura Ashley pattern of blue flowers on a pink background. The curtains are in the same pattern but with pink flowers on a blue background. After the barren wastes of the Habitat Cave, this room seems almost a relief.


This room is somehow better than the last one?
The text says I see a little Chippendale table here but the picture shows a sofa. Perhaps I'm just an uncouth boor. I
GET THE TABLE
because it has the word Chippendale in it and that either means it's valuable or it's owned by a couple of rescue rangers. I head back
SOUTH and then
WEST.
As I enter the room the first thing to appal my eyes is the highly polished black glass floor. The second is the stainless steel sideboard.

Is that a Humvee?
This is the 1930s Avant-Garde Room. Of course it is. Every cave just has to have one. As I stand, numbly gazing, I realize that all the so-called "innovations" of post-1960 decor had not only been done in the 1930s but had actually been done worse.
I'm beginning to think the St. Bride's School was a school for bitter young interior decorators. I
OPEN THE DRAWER
on the sideboard and discover a key painted bright red. I
GET THE KEY.
I feel a bit at a loss at this point and decide to build the bridge across the chasm. I head back to the Wellie House by going
EAST,
EAST,
UP,
UP,
EAST,
EAST, and
EAST.
This brought me back to the Debris Room where I
DROP THE LAMP, say
SPECTRUM!
and am transported back to the Wellie House. At the Wellie House, I
DROP THE TABLE
and the Fence says, "'Ard to get rid o' these, but since you're a good supplier I'll do it."
"Thanks, Mr. Fence! I've also got this!" I say as I
DROP THE CRYSTAL
into his hands. The Fence says, "Don't see many o' these about nowadays. I'll take it." I also
DROP THE KEY
which the Fence isn't interested in. I've now made 51,000 Pounds! Excited about my imminent success, I
GET THE LOG and say
SPECTRUM!
yet again. I now have to juggle my way to the chasm so I head
WEST
into the dark. It's dangerous here so I have to hurry! I
DROP THE LOG
and head back
EAST to
GET THE LAMP.
Once it's in my possession, I head
WEST
and start the process all over. I
DROP THE LAMP,
GET THE LOG, head
WEST,
DROP THE LOG, and return
EAST. I
GET THE LAMP, go
WEST, and then
DROP THE LAMP. Yet again, I
GET THE LOG, head
WEST,
DROP THE LOG, and return
EAST. I
GET THE LAMP and head
WEST.
I now find myself in the pit room. I
DROP THE LAMP and
GET THE LOG. I go
DOWN the stairs where I
DROP THE LOG and then head back
UP the stairs where I
GET THE LAMP and head back
DOWN.
Almost done! I
DROP THE LAMP and
GET THE LOG! Heading
WEST, I
DROP THE LOG, and go back
EAST. I
GET THE LAMP,
GET THE BOTTLE, and head back
WEST.
Arriving once more in the western half of the Vast Hall, I now notice that the log forms a bridge across the chasm! I'm glad it worked because that part was a big pain in the behind. I didn't want to say behind but I don't want to end up in the Swear Box again either! I cross over the log bridge to the
WEST
and arrive in the Hall of Mists! So this is where all those white misty dealies are coming from! Nothing much to see here so I continue deeper into the Hall to the
WEST.
I'm not at the west end of the Hall of Mists! Why did this have to be two locations? And there isn't anything in either of them except lots and lots of pillars! I head
WEST
again into another room with lots of pillars and no points. I am at the east end of a very long hall. The floor ahead has collapsed, making further progress impossible.

I've had it up to there with pillars!
However, the rubble from the massive rockfall slopes downward, allowing a precarious descent to the level below. A hole in the rock, six feet off the ground, runs north. I head
DOWN
deeper and deeper into this cave complex. I arrive at a large cavern The air is still chokingly dusty from a recent rockfall. A rockfall? Is this place actually dangerous?! Maybe this isn't the best place for a date. But I want to look manly so I can score! Feeling how heavy the water is getting, I
DROP THE BOTTLE
once more and then bravely head
SOUTH
into a high, dark passage. Somewhere in the blackness above I hear occasional squeals and the beating of leathery wings. It sounds like a party! But I'm apparently not invited so I continue
SOUTH
and enter the Bat Cave! On one wall is a coin of massive proportions. On another a stuffed dinosaur. From a low cavern in the south glint what would seem to be the two red eyes of some monstrous creature.


If the dinosaur is actually a hippie, what does that tail belong to?
The coin is just a gigantic American penny which seems too big to be of any use. And the dinosaur is actually an aging hippie who is too heavy to carry.
I don't remember any dragons living in Batman's secret fortress lair, so I head
SOUTH
and discover that the glowing red eyes were from the Batmobile! Good thing I stumbled upon it so I can turn off the lights before the battery dies and a whole bunch of people die because Batman can't respond to the Bat Signal!

Can also double as the Wolverinemobile.
It looks like I've reached the end of my adventure, I think as I look at my map (not counting that one room I didn't go into because I knew better because there was a troll with a chainsaw in it). I ask my lady friend what she thinks of the Bat Mobile.
"I've already described it at great length. There's only 64K in this machine, you know. If you want ten-page descriptions you should read War and Peace. Which reminds me. Did you do your homework before you started this silly game?" she lectures.
"I don't have homework! I'm a grown Super Hero!" I respond. With a Super Hero's Driver License, I suddenly realize! I
ENTER THE CAR
and notice a big red button while getting comfortable in the driver's seat. Well, what else is there to do? I
PUSH THE BUTTON
and the rock face slides silently aside to reveal a long, narrow tunnel. The Batmobile flies down the tunnel at incredible speeds and I'm driving it! How did the story get to the point that I'm exiting the caves and entering Gotham City?

Gotham City is a little less Gothy than I remember it.
I end up in the heart of Gotham City! The place doesn't seem very dangerous so I wander
NORTH
to check out the sites. The first site that greets me is the Gotham Library's front steps.

I might buy it if it were the Metropolis Library.
"Spectacular!" I exclaim. My fiancÚ doesn't seem very impressed. "Well, maybe the inside is a bit more Gothamesque!" We
ENTER
the library and even I'm not very impressed with the decor. A woman is here with a small dog under her arm. It's name is Toodloo.
"Hey, I bet the entire literate population of Gotham City is here," insults my bride to be. She is a clever girl!
"What a cute little dog," I say and extend my hand in friendship. Toodloo sinks his cute little fangs into my triceps. The entire literate population of Gotham hits me over the head with her umbrella. "Well, I guess the people are just as friendly here as I'd heard!" I exclaim in supreme indignation! I stomp off to the
WEST
and arrive in the study area. Rows and rows of empty desks are here because apparently the entire illiterate population of Gotham doesn't study. I
EXAMINE THE DESKS
and find a very small cardboard box. The top of the box says, "Dehydrated Art Critics. Surprise your friends with these AMAZING NATURAL MARVELS!" Okay! Great! I
GET THE BOX
and head back
EAST.
Before leaving I decide to examine the books and notice one called "A Detailed Solution to the Gotham City Section of The Very Big Cave Adventure". Oh boy! Just the book I needed. I try to get the book and a hot and super sexy young librarian wearing round spectacles and a pencil skirt propels me gently out of the door with just the slightest touch of her stiletto heel. I fly out of the
EXIT
and onto the street where my extra special lady friend helps me back to my feet. We continue our tour of Gotham by heading
EAST
where we admire the workmanship of the old Gotham Bank.


The camera man must be really, really short.
A newsboy cries "Jester on the loose! Read all about it!" I decide against reading all about it and head
SOUTH
instead. A fancy restaurant called Le Chat Noir (meaning a Short Discussion with a Hard-Boiled Detective) looked uninviting since it only seemed to cater to the wealthy. And even though I now had a substantial amount of money in my pocket, I wasn't flaunting it so I figured they wouldn't want anything to do with me. So I head
SOUTH
where I find the Gotham Infirmary. Approximately every ninety seconds a man wearing a black shirt with a white tie is carried in on a stretcher, riddled with bullets. Used speech bubbles litter the floor. I
EXAMINE THE SPEECH BUBBLES
and read an awful lot of cliche mobster stuff about dying and getting whacked (which is different than getting wanked, especially in Britain), and being put on ice and stuff. Underneath the bubbles, I notice a gas canister. I
GET THE GAS CANISTER
and decide to check out the infirmary. I
ENTER
the double doors and a nurse confronts me. She obviously doesn't want me here because she just drop kicked me all the way to the Art Gallery! Well, since I'm here, I might as well have a look inside! I
ENTER
the Art Gallery. It is featuring a special international exhibition of modern art. I am astounded to see that only three people are present. Large, striking paintings line the walls.

Is that an installation or a place to rest?
"What a beautiful exhibit," I say impressively as I look at a work of art that I hope is supposed to be beautiful. I
WAIT
for a response from my girlfriend Trixie when suddenly a shriek of inhuman laughter rends the air and a terrible figure appears. Green hair, chalk-white face and ruby mouth set forever in a demented grin. Howling with malevolent mirth, THE JESTER strips the gallery of its most priceless paintings.
The room darkens as THAT MAN swoops through the skylight. His silken THAT-ROPE snakes toward THE JESTER, but the villain activates his REPELLO FORCE FIELD, causing the rope to loop back, ensnaring its owner.
"THAT MAN is trapped by his own rope. THE JESTER is escaping. Is the worst yet to come?" asks my frightened sweater bunny.
"Probably," I think before remembering that I, Grunion Guy, am also a hero! "Good thing I remember this!" I say as I pull out the gas canister. I
OPEN THE CANISTER
and as the gas escapes, THAT MAN begins to laugh, but THE JESTER, who is always laughing, now collapses in helpless paroxysms, kicking his legs in the air.
THAT MAN slaps the bracelets on him and takes his haul -- one Picasso and two recent works by Ferdinand Fink. The choice is typical of THE JESTER's grotesquely twisted aesthetic sense.
"Her, take these," says THAT MAN. "The city is better off without them. I'll take you back to the caves."
THAT MAN, my dollface, and I return to the center of Gotham where THAT MAN says, "One moment. I just have to visit THAT PLACE before our journey." The caped figure disappears into a small brick building.
While he's gone, I decide to sneak off to get my chickybabyboom a little souvenir of our trip. I head
NORTH
and end up back at the library. Boring! I sneak off
WEST
to find Gotham Police Headquarters. Nothing interesting here! But a back alley heads
NORTH
so I decide to check it out. This is the kind of place you find old Chinese Shops that sell strange and exotic plants and Mogwais. But being Gotham, the alley just ends in a bare wall.
Having played Masters of the Universe's Terraquake, I know that a blank wall should not be left alone so I
EXAMINE THE WALL
and find an iron ladder bolted there. Yeah, I guess it was hidden underneath all the ivy and blood. I climb
UP
the ladder to find myself on the roof of the station. A panoramic view of Gotham stretches out before me and the teeming multitudes below exemplify every field of human endeavour: protection, bootlegging, numbers running, blackmail, extortion....
On the roof I don't find any trinkets but I do notice a curious searchlight. I
SWITCH ON THE SEARCHLIGHT
and a yellow beam thrusts into the sky, projecting upon the clouds that inimitable call-to-arms, the sign of the bat-like splodge. From somewhere below I catch the words "This is a job for...BARRROOOOOOMMM!"
"Oops! I hope I didn't interrupt THAT MAN's mighty THAT MAN MOVEMENT!" I head back
DOWN
the ladder and then
SOUTH
to the Station. I head further
SOUTH
into town where I discover the Gotham Museum! Running around looking for a gift for the girl doesn't allow me to take many pictures of the landscape but why should I bother? All of Gotham's buildings consist of three steps up to a set of double doors. But since Museums often have gift shops, I
ENTER
to look around.

The museum had one piece of art: a solid wife beater.
The museum didn't have a gift shop but I did notice a Byzantian gold enamelled nail-file that wasn't in a case. I guess somebody must have dropped it! The Bible says, "Finders, Keepers", so I
GET THE FILE and
EXIT
the museum. I don't think my honeypot will be too thrilled with a nail file as a gift, so I head
SOUTH
and then
EAST
and immediately find a jeweller's shop. Oh, this will do nicely! I
ENTER
the shop and notice a magnificent emerald tiara. I'm sure the city won't mind me helping myself to a small token of its gratitude! I
GET THE TIARA and
EXIT
the shop. I head back
NORTH
to see if THAT MAN is done tinkling. He doesn't seem to be back yet. I hope I didn't mess up his system by setting off the bat-splodge signal! I
WAIT and
WAIT and
WAIT and
WAIT and
WAIT and
WAIT and
WAIT and
WAIT and
WAIT and
he finally returns looking much relieved. "I'm sorry for the delay" apologises THAT MAN. "I was called away on a foolish false alarm."
Oops!
I hop in the THAT MOBILE and we race back to the caves! Once back at the caves, I notice that THAT MAN dropped a utility belt for me. He must think I want to be his sidekick! But he's got a few more thinks coming because Grunion Guy is nobody's sidekick! Although, it is a cool utility belt. I
GET THE BELT.
It looks like it would go great with my spelunking outfit, so I
WEAR THE BELT
and then head back
NORTH
to sell my new found load of treasures to the fence. I head
NORTH
again notice my bottle of water. I
DROP THE GAS CANISTER and
GET THE BOTTLE.
I then head
WEST
into the final room in the cave! At least in the first half of the cave.

There's probably nothing behind those curtains.
I find myself in the Brand New Sophisticated Parser Cave. One wall is covered by crimson silk curtains which look suspiciously as if something is concealed behind them. I also se a twelve-foot slavering troll brandishing a chainsaw and a goblet!
More treasure! I'm not sure what that Troll is going to do to me, so I decided to
OPEN THE BOX
I've been carrying around for the whole of Gotham. A small grey pellet falls to the ground. I
DROP THE BOX
because I need to make room for that goblet when I kill the troll. I
WAIT
once more to see if I'm in any danger when the troll takes a family size box of cornflakes from his breast pocket and begins to crunch them. I
WAIT
and
WAIT
again, nervous about fighting a troll when I have no weapons and he has a chainsaw. Plus, he's a troll. I notice he drops a cornflakes packet. I
EXAMINE THE PACKET
which reveals the toy surprise: a Sophisticated Parser -- only given away in family size packs! That's probably not as interesting as it seems. But that grey pellet sure is weird. Is grey a type of gray? I remember the box said instant art critic so I
POUR WATER ON THE PELLET.
The pellet blossoms into an angular lady in a black shirt and white tie who sprouts the following foliage:
"While it is perhaps tempting to compare Morone's 'Blank Canvas' with 'Unpainted Canvas' by Cretine, nothing could be more misleading. While Cretine sees a pure white proto-landscape of limitless possibilities, Morone is representing the existential void which confronts us all when the superficial pretences of civilised life are stripped away. It is necessary to remember that Cretine's work is a virgin canvas while Morones' is actually a Rembrandt scrubbed clean with turpentine in order to fully confront... Etc."
Overloaded by the excessive indigestible verbal input, the SOPHISTICATED PARSER overheats and explodes, vaporising the troll and the art critic.
Well, that was easy enough! I
GET THE GOBLET
and head back
EAST.
I then head
UP and
EAST and
EAST and
EAST and
EAST and
UP and
EAST and
EAST and
EAST.
Once in the big ol' garbage pit, I say
SPECTRUM
and magically appear in the Wellie House. I
DROP THE GOBLET
and the fence says, "'Ere you are. Robbin' meself, I am." Then I
DROP THE PAINTINGS
and the fence says, "Luvly! I know just the suck...er, customer what'll take these." Next I
DROP THE TIARA
and the fence says, "'Ere you are. Robbin' meself, I am." Yeah, you said that jerk! I then
DROP THE FILE
and the fence says some more junk that isn't worth listening to. Saying
SCORE,
I find myself with 131,000 Pounds out of 131,000 Pounds! I guess it's time to find part two of this adventure. I
GET THE KEY,
DROP THE BOTTLE,
GET THE FOOD, and
GET THE ROD and say
SPECTRUM!
I go
WEST and then
WEST
again, hoping to find that pillar I saw many eons ago. I
UNLOCK THE PILLAR
to discover a thick silken cord fixed inside the pillar box and descending through a hole in its floor into deep impenetrable darkness. I
DROP THE KEY
before I head
DOWN
and
DOWN
into the mysterious darkness and into Part Two!