Frankie Crashed on Jupiter
By
Grunion Guy
"Intrepid space explorer Frankie Grunion here! Can anybody hear me? My ship, the Frankie, is crash landing on Jupiter! I know that probably means I'm doomed because Jupiter is a gas giant without any solid land to crash land on but that doesn't change the fact that I need help! Plus, I'll probably be crushed almost instantly by the huge pressures of the planet! But being that this game was written way back in 1985, they probably didn't know much about Jupiter except that it was surrounded by moons and monoliths. That sounds like a good Science Fiction Role Playing Game Name! DIBS! Don't you dare steal that! I wish I hadn't said that over the emergency radio broadcast channel! Oh no! Here I go! CRASH LANDING!"

bang
I seem to have survived that amazing and visually spectacular crash landing! I'm a bit dazed and probably have amnesia since I couldn't find the documentation for the game anywhere on the internet. Plus I'm in the airlock of my stranded ship which seems weird. Was I trying to escape the crash by flinging myself into space? Shouldn't I be in the Pilot's chair? Hmm, maybe I'm not the pilot! Maybe there are other people on board the U.S.S.R. Frankie! I could be the janitor! Oh wait, isn't that Space Quest?
I see a red button labeled 'OUT' which just seems suspicious. I doubt very much I want to eject into the oxygen poor atmosphere of Jupiter's non-surface. But I try pushing the button anyway. When I do, the inner door of the airlock closes and the outer door swings open. You where blown out by the airpresure and land savely on the planet surface. Aaaaarrgg !!!You're out of air! *** You are dead! ***

Death is a rude space traveler.
So, now I know not to really do that plus I also see that the writers of this game must have been twelve years old. Which could explain their lack of knowledge of Jupiter better than that whole 1985 thing I said earlier. I'm also guessing I need a Space Suit if I want to survive my excursion out of the ship.
So, back in the airlock, I decide to check my inventory to see if I have a Space Suit or Oxygen Tanks or something. I notice I have an arcade quality joystick. That must mean it's small and sticky! It's probably a remenisence of my fault. I must have hit my head pretty hard if I think that makes sense.
But then a little voice in the back of my head starts berating me for no reason! Didn't I tell you again and again not to leave your job at the navigation computer? But you thought that you better play ZAGA than watching those boring controls. YOU have brought us into this mess, so YOU are to bring us out of it !!! Okay, voice, okay! Even my inner voices have grammar issues.
Anyway, I figure my best bet (and only real choice) is to head
EAST
out of this dangerous airlock.

Thanks, wall!
I find myself in a long corridor with a plaque that you've probably already read. In the hallway, I find a tape recorder that reminds of the times you were used to "LOAD ERRORS". Oh yes, those were the days! Way back before we had spaceships that could fly to Jupiter, we had LOAD ERRORS from tape recorders. I
TAKE THE TAPE RECORDER
even though I won't be able to play any of my compact discs on it. I mean, I won't be able to play my MP3s on it either! Or maybe I've got Nanoaudiothingies because this is the far-flung future!
I put the relic in my pocket and march
NORTH
up the corridor.

Are those springs coming out of my futuristic android pal?
Sitting against the wall is a dead android that probably had a name but I don't remember what it was. Poor guy. Maybe once I know what I'm doing, I'll strip him for parts to help fix my ship. But for now, I head
WEST
into the computer room.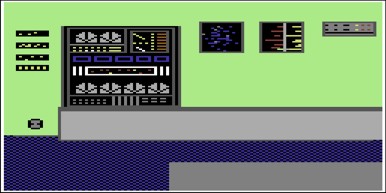 Maybe the computer is a nanocomputer? It must be here somewhere.
The only problem with the computer room is that it doesn't have a computer. But it does have an outlet! So how am I going to play video games with just my joystick and my new tape player? Well, better leave them here for later. I
DROP THE RECORDER and
DROP THE JOYSTICK
as well. If I'm going to be stranded on Jupiter, at least I can have something to do! I hope my ZAGA game is around here somewhere! I stumble back
EAST and then
SOUTH and then
SOUTH again.
I reach the end of the corridor where I see a bunch of cables burning.

This looks dangerous.
That must be why none of the ship's systems are working! Because in the crash, all of the wiring spontaneously combusted, pulled itself from the walls, and piled itself in the middle of the corridor! I'm sure glad I'm the Navigator and not the Engineer because I'm not cleaning up this mess.
I duck into the lab to the
WEST
and realize it's a meth lab!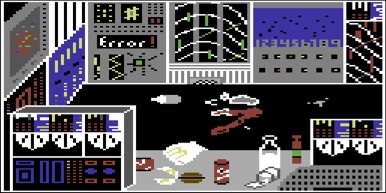 I spy with my little eye...human arms!
We must be interstellar drug runners! I guess the lab as the maze makes sense enough since it would seem weird if I stumbled upon a hedgerow or a dark cavern. Although maybe heating or air ducts would make more sense for the maze. And maybe this isn't even a maze! Because I head
EAST
and discover an ID Card! I
TAKE THE CARD
and check it out because it might be mine and then I'll know if I'm Frankie or not! The card reads: "R2361572257323-B Gnurk, Mike, Captain". Gnurk? The Captain must be from Saturn. I climb through the garbage to the
EAST
and find a 1541 floppy disk station. I may be emulating this game but I own my own Commodore 64 where I do all of my writing for my super stories that some publisher will someday publish. And so I know that a 1541 Disk Drive is the drive for the Commodore 64! Why would another old relic be on this ship? Oh well, my ZAGA game probably runs on this thing, so I
TAKE THE 1541
disk drive. Now to get out of this meth lab before it blows up. I head
SOUTH and then
DOWN
and find myself back in the main corridor. I bet it would have been more efficient to get the drive before taking the tape recorder to the computer room! But then I wouldn't know what I was doing and the actions in the story would seem awfully convenient how they all worked out so nicely. I head
NORTH and then
WEST to
DROP THE 1541
disk drive into my little computer storage room. I head back
EAST and then
SOUTH and then
SOUTH and then
SOUTH
one more time because I remember there is a restroom this way and I really gotta pee! Except restroom apparently means something different in the future!
At least Coca Cola still exists! I check out the bookshelves and find only comics and pornos. What do they mean 'only'?! I have coke and comics and porno and meth! Now if I can only get my Commodore 64 running to play my ZAGA game, I don't care if I ever get rescued!
Hmm, it looks like a functioning computer already exists in this room with the ZAGA game on it! I can just quit right now, can't I? I try to get the Billiard Table and the game responds, No time for playing, stupid. Oh yeah? You're the stupid one because I didn't say I wanted to play billiards, did I?! OH! How dare a computer game call me names! I'm finding this Arens or Mieszl person's email and I'm just going to send them a message that says, "You're stupid!" That'll show them!
There is a closed door to the Captain's room here with a slit beneath the door knob. Hee hee! That sounds dirty! I
INSERT THE CARD
into the slit and the door swings open. Well, that's not very realistic! All future space ship doors SLIDE open, stupids! And this game thinks I'm dumb? I head
WEST
instead of east into the Captain's room because I'm sneaky!

The painting is a selfportrait of the girl who drew the picture for this adventure. It's signed G. Kittner.
I end up in the crew's sleeping room where I find a space dress! Cool! Women's clothing. I
TAKE THE DRESS
and examine it. It's seems to be alright. Maybe I should wear it? Hmm? Should I? Really?! Oh, I feel so naughty! I
WEAR THE DRESS
and it really does make me feel fancier! I also check the date on the wall, 17.9.2111, and realize the future now has at least 17 months! Plus, it takes place 100 years in the future and they're still using Commodore 64s! The author of this game wasn't very imaginative! While I'm here, I
SEARCH THE BEDS
and find a ring of keys. That'll probably be important at some point so I
TAKE THE KEYS
and head back
EAST.
I head
EAST again
and am met with a horrible sight!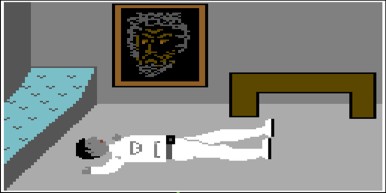 The painting glares at you wherever you stand!
That painting is awful! Also the Captain appears to be dead. I also see a scurril modern painting which makes me look up scurril. I guess it means offensive? Maybe? I should probably just
MOVE THE PAINTING
so I can find the cliché vault hidden behind it. Which I do! Having been smart and already found the ring of keys, I
UNLOCK THE VAULT
and find great treasure! I wonder what the Captain is stashing in his personal stash! I
EXAMINE THE VAULT
which reveals a disk with the label 'KINGSOFT, PLAY IT AGAIN!' on it! It's obviously an original ZAGA distribution disk with write protect notches on both sides. If anybody reading this knows what 'write protect notches on both sides' means, it means you're old! Um, I have no idea what that means at all! Do you also remember how you would put a piece of tape over the notch to write over the disk? I don't either. Next, I
TAKE THE LIGHTER
because the longer I'm stranded, the more tempting that Meth is going to be! I also
TAKE THE DISK
before I forget like I almost did! I head back to the
WEST
and decide to
TAKE THE FOOD
and
TAKE THE CUP
while I'm here. Hopefully I won't have to wander back into this area any more! I head
NORTH
with my arms full. Earlier while you weren't reading, I noticed this lighter I found wasn't working. So I
LIGHT THE LIGHTER
from the big burning mess in the hallway. I head
NORTH and
NORTH and
WEST
until I'm back in the computer room. Once here, I
DROP THE DISK,
DROP THE KEYS, and
DROP THE FOOD.
I head
EAST and then
EAST again
where I find myself in the Weapon Control Room! Here, I see a blank metal ball with a blue button, the arms control panel, and a closed metal case. I look at the ball and I think this item belongs to my job, so I must know what it is for! Except I don't know at all! I better just leave it alone. I
EXAMINE THE PANEL
and discover a Commodore 64 built into it! I'm getting pretty excited to play my game! I
TAKE THE 64
and examine it to make sure it's in good working order. Boy, try to cheat me? Um, what? What the hell was that response? Was that supposed to be the Commodore 64 you're playing the game on responding to you telling the player in the game to examine the Commodore 64 in the game? Is this game trying to blow my mind?! Confused and scared, I head
EAST
into the engine control room. I see a hyperwarp drive here and a battery. I
TAKE THE BATTERY
because I may need it to run my computer if the power doesn't work. I
EXAMINE THE DRIVE
and notice on its back is a small door which is closed now. Well, not for long! I
OPEN THE DRIVE and
EXAMINE THE DRIVE
to discover a drill hidden inside. I bet the crash wasn't my fault at all! Whoever left this drill inside the warp drive is the one to blame! So unless I was the one who did that, I'm off the hook! I
TAKE THE DRILL
as evidence and head
DOWN
the stairs.

Yay! At least I have Pineapples to eat! I wonder if we were smuggling those?
I end up in a really, really messy storage area. I head
SW
which means Southwest into a dark closet where I find a 1701 video monitor! My Commodore monitor is right under my current work desk and it's a model 1702! So I'm further in the future than this 2111 future spaceship! They really should have upgraded their equipment. Maybe we wouldn't have crashed! I
TAKE THE MONITOR
and I head
NE and then
UP and then
WEST.
While in the Weapons Control Room, I take the drill and I
DRILL THE LOCK
on the weapons case. I try to open the case and am told, It's already open, fool! Oh yeah? Fuck you! Fuck you game, I tell it! It then responds, Fucking yourself isn't notably helpful, but you may relax. So you drop all the items you are carrying and start stroking... Wow! Good times! So the game doesn't allow you to drop all but you can tell it to fuck itself and you safely drop all of the items you are carrying so that you can masturbate! Even the glass of water which normally breaks if you drop it and the drill which disappears into some sub-etha space hole thingy! I'm a genius!
Oh, um, back to my story. I
EXAMINE THE CASE
and notice an MPS-802 printer inside the case. It must be a weapon's grade printer! I
DROP THE LIGHTER
so I can
TAKE THE PRINTER
and head
WEST and then
WEST again.
Back in my Computer Storage Room, I
DROP THE PRINTER,
DROP THE 64, and
DROP THE MONITOR.
It seems like I have just about everything to get the computer running except the power source! But I know where there are a big heap of burning cords! Hopefully, they aren't all burning! I head
EAST and then
SOUTH and then
SOUTH again.
Once again by the raging inferno that was threatening to cause the meth labs nearby to explode, I
POUR THE WATER ON THE CABLES.
Congratulations! You stopped the fire! Wow! I got excited for a second there thinking I won the game! That Congratulations with the exclamation point was even more exciting than the ending of the Masters of the Universe Game with its stupid Well Done message! I
EXAMINE THE CABLE
and discover one of them did not burn at all! I
TAKE THE CABLE
and head
EAST.
I now find myself in the Navigation Room which seems to be my main turf! A 128 KByte ram card is lying here. Did you get that? 128 KBytes! That means some games couldn't run on the Commodore until you added a whopping 128 KBytes to your system! I probably don't need so much extra memory, but I
TAKE THE 128
KByte ram card with me anyway. I head
NORTH and then
WEST and then
WEST again.
Finally! I have everything I need to play a game on the game that I'm playing! I
DROP THE CABLE
and proceed to
FIX THE COMPUTER!
Suddenly, right before my eyes, a ready to play computer system!
It even looks exactly like the set-up would look in your grandfather's HAM Radio room! Except the monitor is a bit far from the keyboard. And I thought the 1541 Disk Drive was a single disk drive. I guess it is the future! Now, to play ZAGA! I
GET THE DISK
and insert it into the computer! I can now start playing ZAGA! I know! That's what I said! I try to play ZAGA and that stupid internal voice yells, "How often have I told you not to play those foolish games! Let's get out of here!!!" Fine! What did I set this computer up for anyway?!
Remembering the dual notches on the disk, I decide to
TURN THE DISK OVER and
INSERT THE DISK.
As I insert the disk and close the drive door the computer starts working. The printer produces a listing which reads as follows:
Cool! I have THE CODE! I don't know what it's for! But it was the Captain's secret code so it must be important! I
TAKE THE LISTING
because my memory hasn't exactly been great lately. Now I've got my entertainment center, my reading library, my snack room and my meth lab, perhaps I should explore the rest of the ship. I
DROP THE CUP
which shatters and then
DROP THE DRILL
which disappears in a sub-etha device's service slot, in one word: it's gone! Well, that's actually two words and technically three, but I get it! I lost my drill! I also
TAKE THE FOOD
in case I get hungry or I meet a hungry Jupiter monster somewhere. I head
EAST and then
NORTH
and discover my escape plan!

I really have a problem with this spaceship being named the Frankie.
It's the Frankie 2! Or the Frankie Z! Either way, it's my way outta here! I climb
UP
the ladder for a good look at the cockpit and maybe a button to open the Hangar doors.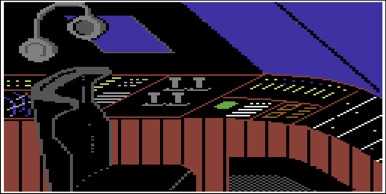 Inside the cockpit, I discover some airtanks and a 3D chess board. I know the airtanks will come in handy but maybe the 3D chess board will too! I
TAKE THE AIRTANKS and
WEAR THE AIRTANKS
because that's what a good space pilot does! I also
TAKE THE BOARD
because I might meet a robot that wants to play chess and I can distract it with the board while I sneak past it and get the button to open the hangar! Unless it ends up happening differently and more anti-climactic somehow. But with a tank and a space dress, I should be able to head outside and walk on the surface of Jupiter! I head
DOWN
the ladder and leave the hangar to the
SOUTH.
I head
SOUTH and then
WEST
where I find myself back in the airlock. Before heading outside, I
ATTACH THE TANKS TO THE DRESS.
Fresh air is filling the suit. I'm on my own air supply now! Rock on! I'm pretty excited now to finally be able to leave the ship and explore the strange surface of the gas giant Jupiter! I cross my fingers and adjust the hem of my dress before I
PUSH THE RED BUTTON
and get ejected out onto the surface!
It sure is rocky and cratery for a Gas Giant! This time I manage to keep from running out of air! Now it's time to explore this magnificent place that looks like a prairie in South Dakota. I head
NORTH
and find a path leading to the bottom of a crater. A path! That means foot traffic has been through here! Could it be aliens? If so, I hope they're hot and sex-starved! Oh, and female! I head
DOWN
and find the path continues across the crater and back to the top. I cautiously climb
UP
the side of the crater. I was right!
Some creature or person has been through here! And it ate some other creature or person that came through here! I notice the skull seems to grin at me which might mean it had sex with some hot alien right before it was eaten! Now I'm pretty excited and less scared than before! Grinning is good, right? I head
UP
the rest of the crater as fast as I can while wearing a dress and come face to face with a terrific jupiter monster.
Terrific? More like gross! And scary! I don't want it to eat me! And I really don't want it to have sex with me! I
GIVE THE FOOD TO THE MONSTER
in the hopes of satisfying its gluttonous lusts! The monster eats the food and horrified by it's ugly taste it runs away. I'm horrified by this game's ugly grammar and stupid writing but I'm not going anywhere! Now that the monster's gone, it's left its car here! I've played so many hours of Moon Patrol that this next part should be really easy for me! I
ENTER THE CAR
and am ready to roll! There is a wrench on the seat so I
TAKE THE WRENCH.
Then I try to start the car but the car has a lack of power. That's a funny way of saying the battery is dead. Is that because they didn't want to clue someone in to using a battery on it to make it run? I'm smarter than that! I
INSERT THE BATTERY
and get no response. Well, maybe I did it since the game didn't say I couldn't! But the car won't start. So maybe if I
ATTACH THE BATTERY TO THE CAR
it'll work. I try to
START THE CAR
again and this time it works! I'm driving a planetcar.

Look! That's me! VROOOOOM!
Since the steering wheel is missing I can only drive forward or backward. I guess I should keep going
FORWARD
then! Not long after, I arrive at the entrance of the city.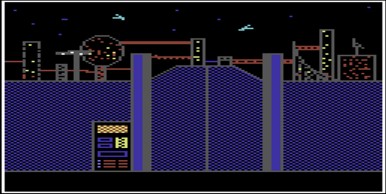 And according to what I'm seeing, there are space ships flying around above the city! And they didn't see my ship go down? Nobody thought to come rescue me? What's going on here? A terminal out front says, 'Say Code please'. So I
SAY KINGSOFT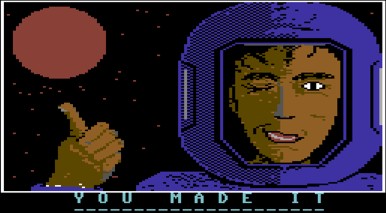 and I win! That's it?
I escaped happily. Look out for other adventures published by KINGSOFT! Look out as in a warning, right? Stupid adventure! I should have stayed on my meth ship playing video games and reading pornographic comic books!