GRUNION GUY ON EMERALD ISLE!
By Grunion Guy
A text adventure game with pictures! That seems like a pretty good game! But it isn't! They really had low standards back in 1985 in England. How come people paid money for this crap? They advertise the game as having hundreds of locations, as if that's how you're going to get your money's worth. But the locations all use variations of the same pictures. If you're at the beach, you get the beach picture but with different colors thrown in to fool you. And if you're in the desert, you get the desert pictures! And who needs hundreds of locations when they don't add anything to the game except make you wander through fifteen different rooms before you get to one that advances the plot. And when I say plot, I don't mean plot like you'd think of plot, as in "That Grunion Guy writes stories with magnificent plots where lots of action occurs! Action like sexing virgins and stabbing bad guys in the throat!" No, I mean plot like in 1985 text adventure game plots where you wander around a bunch of boring locations until you find a treasure. And then you score points! And eventually, if you score enough points, you win!

Well, here's my stupid walkthrough. You owe me for playing this horrible game until I won! Seriously! I almost gave up too! But I didn't. I stuck with it. I think that proves I'm a dumb jerk who has nothing better to do but I like to pretend it means I'm a man of sophistication and sexual conquests in the near double digits!

In Emerald Isle, I'm an aircraft pilot who is supposed to be delivering urgent documents around the Caribbean. Ha! 'Documents'! Riiiiiight! Suddenly, fierce winds seize my plane over the infamous Bermuda Triangle! I escape with my life at the last moment! I don't know what that means! Did the plane blow up and I just barely got out? Or did I jump from the plane just before it crashed? Or did a serial killer leap out of the storage bin and I parachuted from the plane just before he slashed my throat? Probably the last one because I ended up parachuting down to an island below.

"Aha! I recognize that island," I screamed at myself. "It's Emerald Isle! I saw an old map once and I committed the shape of this island to my memory. It's very distinctive. But not only did I see a map. I also heard some rumors about this lonely, rarely visited atoll! This bar wench I used to stalk said that only one person can leave the island and that person is the ruler of the land. And by stalk, I meant bang!" I stopped yelling at myself and concentrated on my parachuting. I crashed into the trees and began my adventure!



UNDO PARACHUTE (This has got to be one of the worst opening moments in text adventure game history. If you're stubborn enough, you might have eventually hit on the word 'undo' to get out of your parachute. Or maybe you're one of those jerky nerd types who are snorting at me right now and saying, "Beep beep beep! You had trouble with this puzzle? Snort! Celibate!" Well, yeah! I had trouble! And do you think someone else out there has put a walkthrough of this dumb game on the internet yet? NO! At least not one that emails itself to me, anyway! So I had to come up with this solution all by myself! Don't thank me! You really won't thank me when you play the rest of the game! You should have just quit after trying 'Release Parachute' or 'Remove Parachute' or 'Down' or 'jump' or 'cut parachute' or whatever! Level 9, you suck!)

UP

GET PARACHUTE (Don't forget your parachute! Remember, in all of these games, take everything you find. Sure, sometimes an object will be a red herring and just take up some of your inventory. But that was another thing these geniuses who made these games thought was fun. Managing your inventory! Just give me a big duffel bag and let me carry all of my crap, okay?! No more mazes. No more guess the verbs. And no more inventory management!)

DOWN





WEST (Oh! But guess what? You get to start in a maze right in the beginning of this game! Luckily, it's not much of a maze. Unluckily, it's not even close to being the last maze in the game. The dumb maze is random. Unless it isn't. Anyway, just keep going west until you find the area with the silver coin. I always seem to find the coin by going west a lot! So maybe it isn't random! Maybe I'm just dumb.)



This is where you find the coin. Very different from where you were stuck in the parachute.


GET COIN

EAST (After getting the coin, just go east and you should end up at the slender bridge. I hope there isn't anything else of importance in that maze because I'm tired of it already!)



EAST (Normally, that's all of the pictures from the game I would post. Really. Except I find their mediocrity utterly fascinating. They really don't add much to the game though. Boring!)

EAST

UP (Here's a picture with a description of the room:



See that? Were the writers even working with the artists? The only exit is down! But I'm looking at three doors right in front of me? Plus it says I'm 'on the high clocktower'. Not in it. ON IT! It looks like I'm in a room though! Man, what a bunch of jerks! I hate whoever made this game and the fact that they earned money for it. If you paid 6 pounds for this thing, email me and tell me you're sorry.)

GET MANUAL

READ MANUAL (I don't know if you have to read it to win the game. Probably not. But now you know you have to build a boat! Oh boy!)

DOWN

WEST

NORTH

GET ROBE (Examine the robe. 'Looks very u indeed...' Is this the first example of the shortened second person pronoun? Maybe! And why 'despite being made from animal carcases'? They make it sound like fur is bad! Hippies! I'm just glad it's not a fish scale robe. That would have been sad.)

WEAR ROBE (Notice how actions like taking things and wearing things elicit no response from the parser? Unsettling! Please, can't someone at least acknowledge that my command was successful? These games are hard enough as it is without having to check my inventory each time I pick something up to make sure it understood what I wanted to do!)

GET POT (Hee hee!)

SOUTH

SOUTH



It really evokes being in a palace, doesn't it?


SOUTH (Oooh! A bouncer! Such an exclusive place!)



Classickal buildings in the style of Main Street, Old Westville


EAST (Just go this way to look at the garden and the 'W' cut into the lawn. It'll mean something eventually!)



The beautiful palace garden. So uplifting!
WEST
SOUTH

What the heck is that supposed to be?


EAST

GIVE PARACHUTE (At least this puzzle is logickal. If you've examined the parachute (or just have a basick knowledge of parachutes!) or waited a round until the seamstress complains about not having enough material, you'll figure it out easy.)

WEST

WEST (So, just flipping the last room's picture is acceptable? Stupid lazy artists. They're as bad as editors.)

SOUTH (Just like the seamstress room and the bell tower. A room with only one text exit but three doors in the art!)

GET COIN

NORTH

UP

READ SIGN (Great. So a text adventure with a goal but they refuse to tell you the goal. Thanks! I bet it has to do with collecting treasures. And probably that 'W' and the other letters I'm sure to find.)

WEST

EAST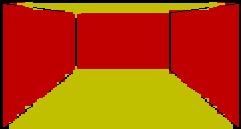 The king's luxurious chambers!


NORTH

DROP ROBE (Inventory management can be a pain. So leave the Robe here. It's a treasure anyway! You just have to remember to wear it whenever you leave the palace by the front entrance or the guard won't let you back in and you'll lose the game!)

SOUTH

DOWN




A very popular Emerald Isle fixture.


WEST (A massive kitchen? With another weird crown toilet sculpture thing? I wonder if the writer expected the artist to provide more detail and the artist was expecting the writer to provide all the detail? I guess in the Bermuda Triangle, 'kitchen' means 'empty room with stupid crown toilet'.)

WEST (You should probably save before going any further. Just in case you get hit by a train or eaten by a ghoul!)

DOWN

DOWN

EAST

INSERT SILVER (The machine will also take the gold coin and give you a seasonal ticket. But you need the gold coin much later in the game. Thanks, you jerks at Level 9, for making me replay almost the entire game because of that one!)

WEST (At this point, you'll need to WAIT until a train arrives. If the train is already here, you can move along with the walkthrough.)

ENTER

EAST

GET PLIERS

WEST

NORTH

WEST

DROP POT (The Bermuda Triangle has inefficient spiders. And mean! If you don't help him, he'll eat you when you try to go through his cave!)

DROP ALL (Incidentally, you can skip that last move and just drop all! This walkthrough wasn't made for efficiency! I'm not helping anyone break any stupid video game records. Do your own nerdy Twin Galaxy work!)

SOUTH

GET LOG

NORTH

DROP LOG

WEST (Don't worry about the dark. As long as you don't spend too long in it, the gruel won't get you.)

SOUTH

WEST

NORTHWEST



At one point, you end up on Mars! Man, now I wish I were playing the game I'm pretending this one is.


GET NECKLACE (Examine necklace. 'Looks pretty. Seems valuable.' Aren't we the Antiques Roadshow Expert!)

SOUTHEAST

SOUTHWEST



Hmm. Seems vaguely familiar.


GET PAN

NORTHEAST

SOUTHEAST (The foothills are another maze. This game is filled with maze-like terrain. I'm pretty sure it was just to pad the number of rooms they could advertise the game as having. People were dumb and gullible in 1985.)



The infamous Boot Hill of the tropicks!


SOUTH (Boot Hill was in the Caribbean? You could also have gone east. Your preference, I suppose!)

EAST (Oh! An 'A' hanging in mid-air. That's not weird! So, we've now found an 'A' and a 'W'. Mmmm, rootbeer.)

NORTH (At least they got the names of all these locations correct. 'Tedious', 'Endless', 'Boring', and 'Dull'.)

SOUTH

EAST

USE PAN (Maybe the kitchen was just to distract me and think the pan was for cooking. Well, I'm smarter than that! Examine nugget. 'Looks shiney. Seems valuable.' What am I? A cat!)

SOUTH

EAST

DOWN

SOUTH (Guess what? Another maze! Of sorts. The mazes in this game are frequent but not hard to navigate. So we can all thank Level 9 for being lazy and unimaginative.)

SOUTH



I think this picture is in every graphickal text adventure released in the 80's.


SOUTH

GET AXE (Examine axe. 'Looks sharp.' That gives me an idea! Maybe I can chop stuff with it! Thanks for the clue, Level 9!)

WEST

WEST

WEST

NORTH (A 'T' carved on a tree-trunk. Now we've got 'W', 'A', and 'T'.)

EAST

EAST

EAST

NORTH

NORTH (And we're out of the forest for good! One maze I don't have to navigate again.)

UP

WEST

WEST

WEST

UP

EAST

NORTH

NORTH

WEST

NORTH

NORTHWEST (You might find a quicker way back through the desert yourself if you're interested. We'll be heading back there later. But who cares, really? My way works!)

EAST

NORTH

EAST

MAKE BOAT (Even though the dumb Manual says Boat Building, you can't build the boat. You have to make the boat. Couldn't they have implemented either verb? I'm so angry!)

TIE ANCHOR

DROP ALL (I hope nobody else on the island comes along and takes my treasure!)

ENTER CANOE

NORTH

NORTH (Don't go southeast here because you'll end up underwater and lose the boat. Maybe there's a reason for it other than Level 9 had crappy programmers.)

NORTH

WEST

WEST

SOUTH

IN (This cave randomly makes you slip out. If that happens before you end up out of the darkness and on to the overhanging cliff top, just continue the walkthrough back at this command (IN). It may take a lot of tries. A LOT OF TRIES! But it'll eventually work.)

UP

UP

NORTH

WEST

WEST

GET WALLET (Mr Jones lost his wallet. Treasure all over the island. What is wrong with the careless rich people of Emerald Isle? Or maybe they've all been killed! The only other people on this island so far are the seamstress, the guard, the king and the ticket taker.)

EAST

EAST

IN (Most likely, you'll lose your footing and slide right out to the south end of the beach. If you don't, just head DOWN until you're on the beach before continuing with the walkthrough.)

NORTH

ENTER CANOE

EAST

EAST

NORTH

NORTHEAST

GET LAMP

WEST

UP

GET COCONUT (Examine coconut. 'Looks golden. Seems valuable.' Really? A golden coconut? I'm wondering if this was meant to be a puzzle. 'Hey! I found a coconut! I wonder what I should do with it?' If you never examine it, you'd never guess it was a treasure. So you might leave it somewhere and never score the points for it by putting it in your treasure storage area. I can't wait to play more Level 9 games! Maybe I'll eventually learn how that basement full of troglodytick programmers thought!)

DOWN

SOUTHEAST

ENTER CANOE

SOUTH

SOUTH

SOUTH

SOUTH

WEST

GET TICKET

GET NUGGET

GET NECKLACE (Now one of my most favoritist parts of treasure hunting text adventures! The trip back to the drop off point! Whee!)

EAST

SOUTH

WEST (But first! Let's earn some cash for being a good citizen!)



The police station! Or a bird house.


DROP WALLET (Ahhhhh! Where'd that cop come from?)

EAST (Now WAIT until the train gets here before continuing.)

ENTER

UP

UP

EAST

EAST

UP

NORTH

DROP NECKLACE

DROP NUGGET

DROP COCONUT (Score: 192/1000! Wow. Still have a long way to go! A lot of this walkthrough is just going to be directions. I know, boring!)

SOUTH

DOWN

WEST

WEST

DOWN

DOWN (WAIT until the train arrives!)

ENTER

NORTH

WEST

GET BRONZE COIN

DROP TICKET

EAST

ENTER CANOE

NORTH

NORTH

NORTH

NORTH

EAST

FILL LAMP (Crazy! But if you ever want the lamp to light, do this!)



Possibly the best looking bit of scenery!


EAST

GET LADDER

UP (Ignore the telescope! You don't want to look like a tourist!)

EAST (Yay! Another maze! That probably means another letter!)

SOUTHEAST

EAST

SOUTHEAST

SOUTH

SOUTH

EAST

GET MATCHBOX

SOUTHWEST

WEST

WEST ('You are on a small town high street.' Like Haight or Ashbury?)

WEST

GET BOOK

SOUTH

BUY HAMMER

NOTES (Hey! This idiot is out of stock of Level 9 games! The residents of this town must love crappy graphickal text adventures!)

BUY SCREWDRIVER

NOTES

NORTH

SOUTHWEST

BUY GRANULES

BRONZE

INSERT GRANULES (I don't know if this is a programming error or the way the game is meant to be. If you try to insert the granules without water in the lamp, it says 'You try putting granules in the lampThe lamp is empty.' Exactly like I typed that. If the lamp is full of water, it says, 'You try putting granules in the lampThe lamp is lit and shines brightly.' You never need to use the matches on it. Although, the matches do come in handy for part of the game if you can't figure out the lamp. I'm guessing it's just a syntax error that isn't spacing the two sentences, since the lamp being rusty is probably the clue to fill it with water to make it work. I don't know. It doesn't seem very logickal to me but I figured it out, so I guess I think like the Level 9 writers, who must have been some sort of scientists or something. Pee-yuke!)

NORTHEAST

NORTHWEST

BUY FOOD

NOTES

SOUTHEAST

NORTH

BUY PAINTING (It's a painting by the guy who did the art for the game! So, you'll figure me if I don't actually believe it's a 'splendid' painting. Although, he makes some decent Tarot cards now that you can find on ebay. So maybe Level 9 just wasn't paying him enough to put any effort into it.)

NOTES

SOUTH

EAST

NORTH

EAST

GET BOATHOOK

EAST

NORTH (Let's find another letter now!)

NORTH

NORTH (Here we go! An 'L' marked out by pebbles. So we now have a 'W', 'A', 'L', and 'T'.)

NORTHWEST

WEST

WEST

WEST

DOWN

ENTER CANOE

WEST

WEST

SOUTH

SOUTH

SOUTH

SOUTH

WEST

DROP ALL

GET LAMP

GET HAMMER

SOUTH

EAST

UNDO PLANK (Now, I can see UNDO PARACHUTE as being a reasonable answer. Sort of. But UNDO PLANK? No. Stupid. Of course, after the parachute thing, I can see trying UNDO here just because it was so ridiculous the first time. Maybe that's what Level 9 was counting on. Or maybe there's another, more logickal way to remove the plank and I happened to do it the idiotick way first? Who knows?!)

GET PLANK

WEST

NORTH

WEST (Now with a little light, we see there is a map here!)

GET MAP (Examine map. 'Looks like a picture of a palm tree beside a cross. It's quite small. Seems valuable.' So, the map leads to a treasure but is also a treasure. Tricky!)

SOUTH

WEST

SOUTHEAST

EAST

SOUTH

SOUTH

EAST

NORTH

UP

DROP PLANK (Aha! A reasonable puzzle!)

NORTH ("'Cor. Struth. Funny kinda plants for the tropicks!', you think." Really? Funny kind of language for the tropicks too!)

EAST

NORTH

UP

EXAMINE BOULDER

DOWN

IN

GET PAPER (Examine paper. 'Looks like a tattered sketch of an ancient galleon, apparently submerged.')

OUT

SOUTH

DOWN

GET PLANK

DOWN

SOUTH

WEST

WEST

NORTH

NORTH

WEST

NORTH

NORTHWEST

EAST

NORTH

EAST

DROP ALL

GET LAMP

EAST

EAST

EAST

GET POST

EAST

SOUTH

SOUTH

SUPPORT CEILING (Another logickal puzzle. The ceiling collapses if you pass it. So, support it! It was also a tricky part of the game for me because you need the post again later in the game. And when I've used an item, I tend to forget about it! So these kinds of puzzles where you have to use something more than once always mess up my little fishy brain.)

SOUTH

GET ROPE

GET PICK

NORTH

NORTH

EAST

EAST

GET SHOVEL

DIG

WEST

WEST

SOUTH

SOUTH

DIG (Yay! Lots more treasure. Perhaps a trip back to the drop-off area!)

NORTH

NORTH

NORTH

WEST

WEST

WEST

WEST

GET KEY

GET PAINTING

GET MAP

GET TICKET

EAST

ENTER CANOE

NORTH

NORTH

NORTH

NORTH

NORTHWEST



The artist proves with this picture that he's just been lazy with all the others. This one has some of the higher quality you'd expect for 1985 computer art.


DIG

SOUTHEAST

ENTER CANOE

SOUTH

SOUTH

SOUTH

SOUTH

SOUTH (WAIT until the train arrives before continuing.)

ENTER

UP

UP

EAST

EAST

UP

NORTH

DROP MAP

DROP OPAL

DROP DUBLOONS

DROP FIGURINE

DROP PAINTING

DROP PYRAMID (SCORE: 480/1000. Almost halfway there!)

GET ROBE

WEAR ROBE

SOUTH

DOWN

EAST

NORTH

NORTH

NORTH

EAST

UP (Backtracking is so tedious! Maybe I should have spent more time making a more streamlined walkthrough. No, this is good enough!)

WIND CLOCK

DOWN (Wow! Lots of people in one place! And they love me! Hopefully this key will get me to some more exciting places.)

WEST

OPEN GATE

SOUTHEAST

WEST (An 'H' is floating in the water! I've now found 'W', 'A', 'L', 'T', and 'H'. Hmm. Buy a vowel?)

EAST

OPEN GATE

NORTHWEST

SOUTH

SOUTH

SOUTH

WEST

UP

NORTH

DROP ROBE

SOUTH

DOWN

WEST

WEST

DOWN

DOWN (WAIT until the train arrives!)

ENTER TRAIN

NORTH

ENTER CANOE

NORTH

NORTH

NORTH

NORTH

EAST

EAST

UP

EAST

SOUTHEAST

EAST



I just thought it was time for another picture!


UP

UP

IN (You'll probably lose your footing and fall to the bottom here. That's what you want. If you don't fall, just go DOWN.)

DIG

UP (Again, you'll have to deal with a random chance of falling. Just keep going UP, UP, OUT until you're successful. If you fall, don't go OUT! Just go OUT after two successful UPs! Sheesh! And it might take a really long time for you to get out. Whoever thought it was a great idea for such a random area in a game that is supposed to be about using your brain is mean.)

UP

OUT

DOWN

DOWN

NORTH

NORTH

EXAMINE SCARECROW (Sure, I can believe a scarecrow in the middle of the desert! Not weird at all! Okay, maybe it was once fertile farmland. Stop being such a nerd about it!)

WEAR OVERALLS

WEST

WEST

SOUTH

WEST

DOWN

ENTER CANOE

WEST

WEST

SOUTH

SOUTH



This is what ocean travel looks like!


SOUTH

SOUTH

WEST

GET FOOD

GET GOLD

DROP SMALL KEY

DROP PICK

DROP SHOVEL

EAST

SOUTH (WAIT until the train arrives!)

ENTER

OPEN GATE

WEST

NORTH



I don't even know where this is. What is this? A hallway?
NORTH
EAST
GET ARMBAND
WEAR ARMBAND (Hmm. An armband? It's reflective and woven from glass fibres. Weird. Is it for safety? I don't know! Also, WAIT until the next train arrives!)

ENTER

NORTH

GIVE FOOD

NORTH



This village loves yellow.


NORTH

GIVE GOLD

SOUTH

SOUTH

EAST

EAST

EAST

EAST

SOUTH

EAST

GET BOWL

WEST

WEST

WEST

NORTH

WEST

WEST

SOUTH (WAIT for the next train!)

ENTER

WEST

SOUTH

SOUTH

OPEN GATE

EAST (WAIT for the next train!)

ENTER

NORTH

WEST

DROP TICKET

DROP KEY

DROP DIAMONDS

DROP ROPE

GET PLIERS

GET SCREWDRIVER

EAST

ENTER CANOE

NORTH

NORTH

NORTH

WEST

WEST

SOUTH

IN (This is that stupid cave with the random chance of slipping. So just keep going IN, UP, UP, until you get to the top of the cliff.)

UP

UP

WEST

SOUTH

SOUTH

EAST

SOUTH

SOUTH

EAST

EXAMINE CONTROLS

UNDO PLATE

ATTACH WIRES

WEST

NORTH (Can you tell the game has really broken my spirit? I can hardly think of any more scathing remarks for the Level 9 staff.)

WEST

WEST

SOUTH

SOUTH

WEST

SOUTH

EAST

SOUTH

EAST

EAST

IN

DOWN

GET BROOCH

UP

OUT

WEST

WEST

NORTH

WEST

NORTH

EAST

EAST

NORTH

NORTH

NORTH

NORTH

NORTH

EAST

IN (You should fall all the way to the beach. If you don't, just keep going DOWN until you're on the beach.)

NORTH

ENTER CANOE

EAST

EAST

SOUTH

SOUTH

SOUTH

WEST

DROP ALL

EAST

ENTER CANOE

NORTH

GET ANCHOR

WEIGH ANCHOR

DOWN

GET ALL (There must be treasure here, right? Even if I can't see it? Check inventory and, yep! A sword and a sapphire! Nice!)

UP

GET ANCHOR

SOUTH

DROP ANCHOR

WEST

DROP ALL

GET LAMP

GET LADDER

GET ROPE

WEST

SOUTH

WEST

SOUTHEAST

SOUTH

SOUTH

SOUTH

WEST

WEST

DOWN

EXTEND LADDER

DROP LADDER

ACROSS

GET CHEST

WEST

TIE ROPE

DOWN

EAST

NORTH

EAST

GET CORONET

WEST

SOUTH

WEST

UP

GET ROPE

EAST

ACROSS

UP

EAST

EAST

WEST

NORTH

NORTHWEST

EAST

NORTH

EAST

DROP ALL

GET TICKET

GET BROOCH

GET SAPPHIRE

GET SWORD

GET CHEST

GET CORONET

GET DIAMONDS

EAST

SOUTH (WAIT for the next train!)

ENTER

UP

UP

EAST

EAST

UP

NORTH

DROP ALL

GET TICKET

SCORE (768/1000! 232 Points to Go! But where are they? Hmm....)

SOUTH

DOWN

WEST

WEST

DOWN

DOWN (WAIT for the next train!)

ENTER

NORTH

WEST

GET LAMP

GET CARD

GET SHOVEL

EAST

EAST

EAST

EAST

SOUTH

SOUTH

GET POST

NORTH

NORTH

WEST

WEST

WEST

WEST

WEST

SOUTH

WEST (I wonder what the next Level 9 game will be that I'll play! I can't wait!)

SOUTHEAST

EAST

SOUTH

SOUTH

EAST

SOUTH

EAST

DOWN (Looks like I was wrong about being done with this forest! Stupid clear cutters. I'll stop them!)

SOUTH

WEST

WEST

WEST

SOUTH

WEST

WEST

NORTH

EXAMINE MONUMENT

INSERT POST

DOWN

PUSH CARVING

SOUTH (For a company that makes its living by publishing computer programs, they sure are down on technology! The city is ugly and full of cars and dog poop. And now an awful room full of computers! What a bunch of hypocrites!)

EAST

GET ROPE

WEST

INSERT CARD

SOUTH

PULL LEVER

OPEN DOOR

NORTH

NORTH

UP

SOUTH

EAST

EAST

EAST

EAST

EAST

NORTH

NORTH

NORTH

UP

WEST

WEST

ACROSS

WEST

TIE LONG ROPE

DOWN

SOUTH

SOUTH

EAST

DIG

DOWN

GET RUBY

UP

WEST

NORTH

NORTH

UP

GET ROPE

EAST

ACROSS

UP

EAST

NORTH

NORTH

WEST

NORTH

NORTHWEST

EAST

NORTH

EAST

DROP SHOVEL

EAST

ENTER CANOE

NORTH

NORTH

NORTH

WEST

WEST

SOUTH

IN (Back inside the slippery cave. Just keep at it and you'll get up the dumb thing. These random parts are really horrible for text adventures. How many people tried one or two times and just figured they'd need to find something to help them up the cave? They'd give up on the dumb adventure 10 minutes in! If they got out of their parachute, of course.)

UP

UP

WEST

SOUTH

SOUTH

SOUTH

EAST

SOUTH

SOUTH

EAST

PUSH BUTTON

WEST

NORTH (Yay! Rare Gems from some corporate big wig! Fat jerk!)

SOUTH

EAST

PUSH BUTTON

WEST

NORTH

NORTH

WEST

NORTH

NORTH

NORTH

EAST

IN (Hopefully you fall to the bottom. Otherwise, DOWN, DOWN, DOWN!)

NORTH

ENTER CANOE

EAST

EAST

SOUTH

SOUTH

SOUTH

WEST

GET BOATHOOK

DROP POST

DROP CARD

DROP ARMBAND

GET ORNATE KEY

GET BOOK

EAST

SOUTH (WAIT for the train.)

ENTER

OPEN GATE

WEST

NORTH

NORTH

EAST (WAIT for the train.)

ENTER

NORTH

EAST

EAST

EAST

EAST

EAST

GET VINES

EAST

NORTH

EAST (An 'E' on the ground! Our last letter! Did I already find this? I don't know. Whatever!)

SOUTHEAST

SOUTH

EAST

EAST

DOWN

SOUTH

UP

THROW ROPE

PULL ROPE

IN (Rude runes?!)

READ RUNES

EAST

SOUTH

READ WRITING

THROW OVERALLS (Whew! I hope I don't need those overalls anymore!)

SOUTH (Oh! Here they are! Nevermind!)

GET OVERALLS

READ GRAFFITI (Riddles! Always with the riddles!)

NORTH

DROP ALL

NORTH

WEST

OUT

GET BLOCK

IN

EAST

SOUTH

SOUTH

DROP BLOCK

NORTH

GET ALL

SOUTH

WEST

SOUTH

WEST

PUSH ROOF

DOWN

GET IDOL

UP

EAST

NORTH

EAST

NORTH

NORTH

WEST

OUT

NORTH

UP

WEST

WEST

WEST

WEST

GET VINES

WEST

WEST

WEST

WEST

WEST

WEST

SOUTH (WAIT for train.)

ENTER

WEST

SOUTH

SOUTH

OPEN GATE

EAST

UP

UP

EAST

EAST

UP

NORTH

DROP GEMS

DROP RUBY

GET ROBES

WEAR ROBES

SOUTH

DOWN

EAST

NORTH

NORTH

NORTH

OPEN GATE

SOUTHEAST

UP

UP

NORTH

DROP IDOL

GET IDOL

SOUTH

DOWN

DOWN

OPEN GATE

NORTHWEST

SOUTH

SOUTH

SOUTH

WEST

UP

NORTH

DROP IDOL

DROP ROBES

DROP BAG (SCORE: 960/1000. Almost there!)

PULL CORD

WEALTH (SCORE: 1000/1000! I am a Grandmaster Adventurer, Ruler of Emerald Isle and all-round hero! I know, right?)

WEST (Winner! I'm King of Everything! I hope I earned a harem of lovely ladies too!)

THE END!

* * * * * * * * * *